NASSAU, Bahamas – A year ago, Tiger Woods' primary objective as he returned to competitive golf was fairly simple. He just wanted to make it through a tournament week, or a specific stretch of golf, without his body breaking down.
A year later, he's not only shown that his body can hold up – at this week's Hero World Challenge, he's making his 19th worldwide start of the calendar year, matching his total in his last dominant year of 2013 – he's also shown he can win again. Career victory No. 80 was recorded two months ago at the TOUR Championship, putting him just two shy of Sam Snead's all-time PGA TOUR record.
So his goals have been adjusted. Heading into 2019, winning is once again the name of Tiger's game.
"Now it's just about managing and making sure I'm fresh for events," Woods said Tuesday, "because I know I can win tournaments again."
But don't confuse this goal of winning with the goals he had, say, 15 years ago in the midst of his heyday. Back then, Tiger was healthier and, of course, younger. His desire to win was not limited to a single season or single event. Sustained domination was his driving force.
Now at age 42 – he turns 43 in just over a month – the window of opportunity is closing. Winning is within his grasp again, but time is no longer on his side. Given the amount of depth among the PGA TOUR's elite players, and the notion that they aren't intimidated by his presence on the leaderboard, Woods' goals of 2019 are different than when he entered 2004 off a five-year stretch in which he won 36 times.
"Not the same. It never will be," Woods said. "I'll never feel like that again. I'm not 28 years old. Physically, I'll never be like that. Expectations are different than they used to be, for sure.
"Now, can I still win? Can I still compete? Yes. Now, can I do it for the next 20 years? No. Because that's not realistic.
"When I was 28 years old, year, I felt like I could play this game at an elite level for 20 years. Right now, I'm 42 turning 43, and 20 years is not feasible."
Asked what his goals were at age 28, Woods replied: "Just to win. To win everything because I felt like I could. I had the body and the game to do it."
Now, can I still win? Can I still compete? Yes. Now, can I do it for the next 20 years? No. Because that's not realistic.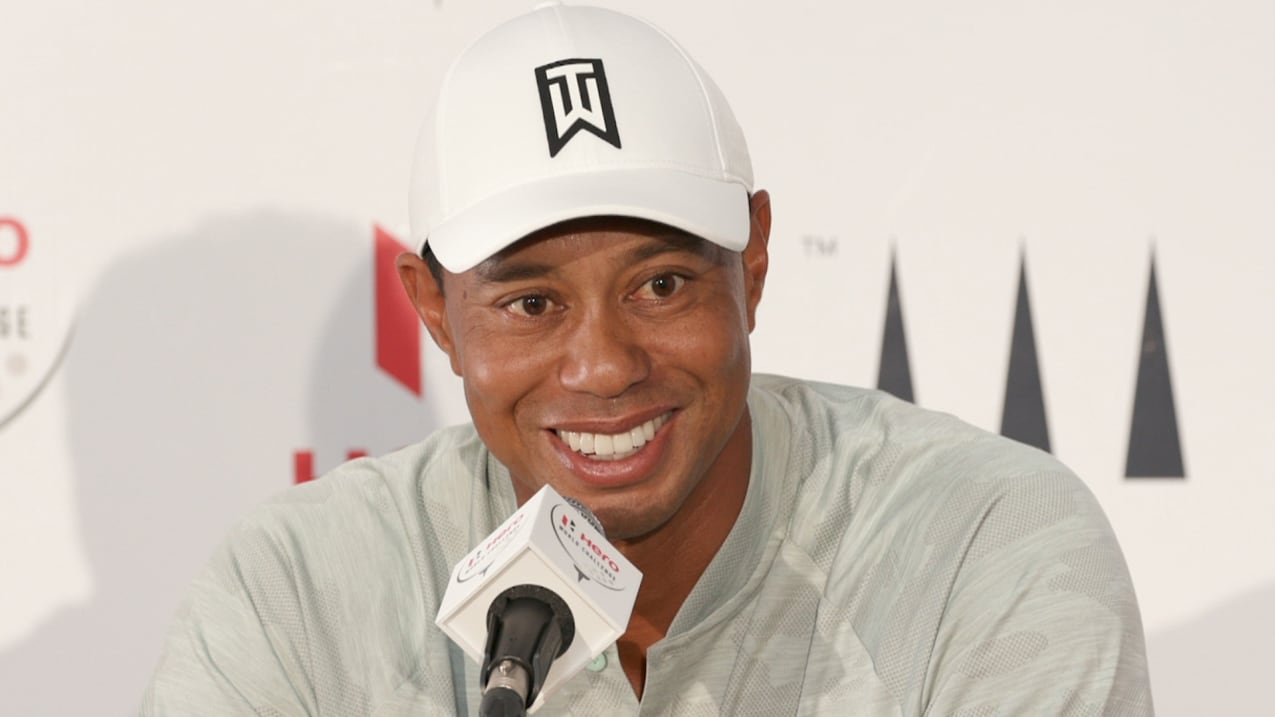 Interviews

Tiger Woods on season turning point before Hero
While 2018 showed that Woods could win again, it also showed him the limitations of his surgically repaired body. He carefully managed his playing schedule for much of the season, but the demanding finish – seven starts in a nine-week stretch, including the Ryder Cup – left him worn down. He admitted he was not physically prepared to play as much golf as he did, especially at the end of the season.
The weather did him no favors, either. Of his last six starts in the 2017-18 PGA TOUR season, five of those tournaments had at least one day with temperatures at least 90 degrees – and the other one had days in the mid-80s.
"You guys have been out here long enough – it has never been this hot," Woods said. "Every single tournament, it was just stifling. … It was just hard for me to maintain my strength and my weight through all that. I tend to lose a lot of weight when I play. I was exhausted by the time I got to the Ryder Cup. I was worn out mentally, physically, emotionally."
The reconfigured 2018-19 PGA TOUR schedule will be another challenge, with THE PLAYERS Championship moving to March, the PGA Championship moving to May, and the three-event FedExCup Playoffs finishing before Labor Day. After a lengthy post-Ryder Cup layoff – and a short preparation time for last week's winner-take-all match against Phil Mickelson – Woods is training to handle the rigors of the new-look season.
Managing that schedule will be just as important. Right now, he is committed only to playing the Genesis Open – which is Tiger Woods Foundation runs, as it does this week's event – and the four majors as he continues his pursuit of another record, Jack Nicklaus' record 18 major wins.
"Other than that, we are still taking a look at it as far as what is too much," Woods said. "Seven of the last nine to end my season was too much. … I need to make sure that I am, as I said, rested and ready to play. …
"Being physically in better shape going into next season is very important in being able to handle the condensed schedule and all the big events we play every month. There's literally a big event every single month, so physically I've got to be in better shape than I was last year."
Whether he goes back to being the Tiger of old or just an older Tiger, his peers will be ready.
"To be on TOUR now is really special because I think we're going to have a few years to compete against Tiger when he's playing good golf and is in a good mindset," said his Ryder Cup teammate Tony Finau, who is hopeful of playing under captain Woods at next year's Presidents Cup in Australia. "It's going to be a cool thing and I look forward to these next few seasons to be able to tee it up with him and play with him, and hopefully we have some really cool battles together."
The 29-year-old Finau said he used to dream of those battles as a kid, usually in a big event. Did he ever win?
"Yeah, of course I won," Finau said. "I mean, you want to give yourself confidence as a kid, so you hit the 6-footer and it's for you to win, not for him. Sometimes I would actually use two balls and I would say this one's Tiger and that's mine, and I would purposely miss one and then I would make mine. I think we have all done that."
In real life, of course, Tiger usually can be counted on making those 6-footers in the big moments. His goal is to have more of those chances in 2019.